Quattro Premium selection, fruit portioned tea in a hygienic cover 40g (cherry, pear, blackberry+echinacea, apple+cranberry)
Product info
Popular
Quattro Premium offers 4 new flavours. . Quattro Premium offers 4 all new extraordinary taste variations. Cherry ecstasy has a strong fruit taste with touch of eccentricity. It is a tea full of sun and passion for every woman that has her dreams and a man, that has his secret wishes. Pear caress is a new type of an unusual taste in the world of tea. Harmonic, tasty pear perception in a combination with lemon is fondling. Blackberry echinacea delight is a beneficial combination of fruit and herb with a positive influence on our organism. Apple cranberry relaxation is a taste-original, which's total influence ends up to be a superb boost..
36,40 CZK excl. VAT
41,86 CZK incl. VAT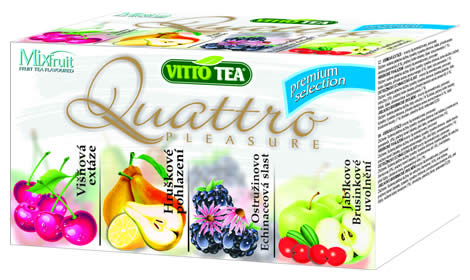 ---
Free shipping on orders over 1500 CZK.

Your order shipped in two business days.

Order directly without registration.
---